Sukhdev Reel's fight for Justice
By Robert Punton
On October 14th 1997, Ricky Reel, a student from Brunel University went on a night out with his fellow student mates, nothing special there, but what happened that night would end his life and change his family's lives forever.
Ricky was not a typical university student. He was a studious student who spent most of his time on his computer or with his family. So, when he did not turn up back home that night, his mother Sukhdev instantly and instinctively knew something was wrong. She stayed up all night. Her anxiety raising as the seconds turned to minutes, and slowly turned into hours. Sitting on the stairs staring at the phone willing it to ring, Ricky saying he was on the way home, or frantically hoping his key would turn in the front door followed by "Mum I am home". Unfortunately, neither happened.
As the morning of the 15th dawned, so did a campaign for justice, a campaign to discover what truly happened to Ricky that night.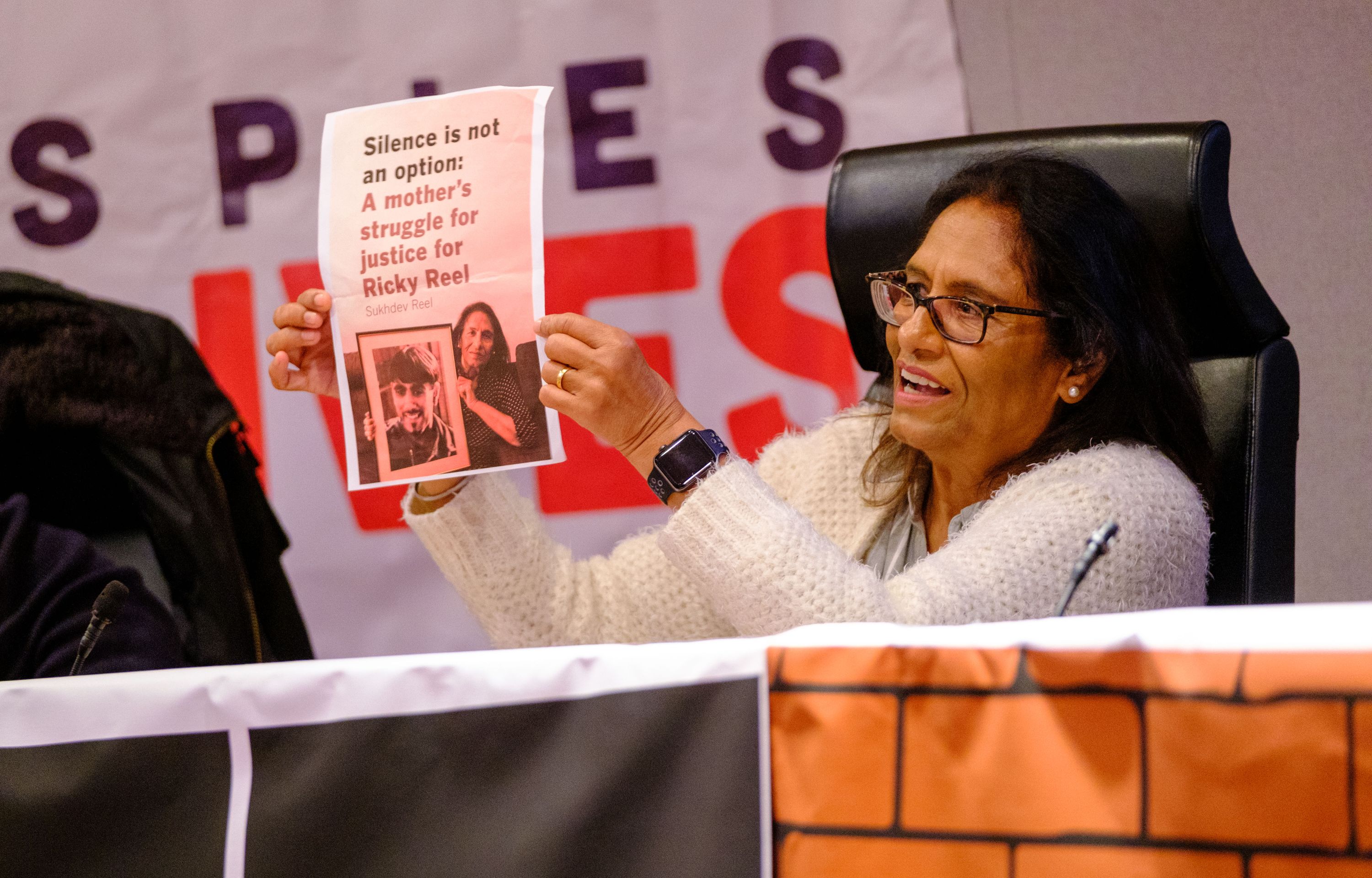 Photo (c) Jess Hurd via S. Reel
She began to gather her supporters around them. One of the first she contacted was her local MP John McDonnell, who became and remains her staunchest, strongest advocate.
The following paragraphs are some extracts from John McDonnell's introduction to her book, Ricky Reel: Silence is not an option.
I am the Reel Family Member of Parliament. I have known Mr and Mrs Reel and their children for many years. So, when Ricky went missing it was natural that they would contact me….
…
They instinctively knew something was seriously wrong. The reason they contacted me was because no matter how hard they tried they could not get the police to take their fears seriously…. I did what any MP would do I contacted the local Police Commissioner to seek urgent assistance from the police to find Ricky
…
From then on and for the next two decades we witnessed a complete failure of the justice system to find justice for the Reel family, a system that still fails them today
…
It has been the family that has had to undertake their own investigation from day one, even initially having to undertake basic investigatory work to trace Ricky's body and the events in Kingston upon Thames on the night he went missing…
…
The family found from the beginning their views did not count by the police…They felt disrespected…An obsessive secrecy and obdurate failure to be open with the family resulted in me at one point having to use parliamentary privilege to simply bring into the public domain the supposedly independent investigation of the police handling of the case.
Let us fast forward 25 years, to 2022. Sukhdev has been convinced to put her story into print. She has called this book Ricky Reel: Silence is not an Option. Published July 1st 2022 by Bookmarks Publications ISBN13 9781914143571
The book launch took place on 3rd July 2022. I was lucky and honoured to be present at this event.
Before we continue, let us pause to reflect. Twenty-five years on. That is five years longer than Ricky lived on this planet… And yet, the battle for justice for Ricky Sukhdev and her family rages on.
I am ashamed to say when Manjit invited me to attend the launch, I had heard Manjit's poem but that was it.
As a long-standing member of Stand Up To Racism, a cofounder of Poets Against Racism, I am baffled how this sad campaign led by a fabulous campaigner passed me by. Especially as I have worked closely with her MP John Mcdonnell campaigning for Disabled People's rights, as part of Disabled People Against the Cuts (DPAC), yet I never knew of his tireless work on behalf of the Reel family.
So, I had little expectations of what to expect. When a frail Asian woman entered the tent, I must admit being even more confused.
The tent was packed, with many standing outside the tent, so I must have been on my own with my ignorance.
Manjit introduced me to Sukhdev and she immediately agreed to sign my copy of her book, which I thought was a gracious thing to do, as she did not know me from Adam or Eve
If I was in any doubt about the calibre of the campaigner, my fears were smartly put out to pasture.
As the lioness roared in defence of her cub, through a veil of tears, I and everyone in the close vicinity got a blast of this courageous campaigner's fearless campaign to ensure she got justice for her beloved lost son and to fix her fractured family. By the time she had finished her tearful heart wrenching story, I like everyone there was ready to stand under her flag and fight her corner.
Manjit confirmed that Poets Against Racism was willing to use our numerous platforms to promote the book and use our local links to organise book launch events. I was more than happy to agree to this straight away and in the weeks since being in constant contact with her I have only strengthened my resolve to help her fight and overcome her plight. For her fight is our fight, if the justice system and the law enforcers can abuse one of us and get away with it, there is nothing to stop them doing it to all of us.
Yes, I know racism plays a big part in what happened to the Reel family. But it is not on only about race it is also about class:, a working-class Asian boy venturing into a prosperous affluent area like Kingston upon Thames was unlikely to get respect, dignity, or justice.
Anyway, I must reel myself in (no pun intended, well maybe a small one) I am getting ahead of myself and balancing unsteadily on my soapbox.
You must be aware that everything I have describe happened within a time span of about 90 minutes. I had not even opened her book.
I will not divulge too much about the book because the whole purpose of this blog is to encourage you to buy the book: Sukhdev tells the story far better than I could and by buying the book you are contributing to the funds which allows Sukhdev's campaign to continue.
However, the book describes one issue and two people I feel I must comment on.
The first is the deplorable act of spying on the Reel family. Instead of putting all available resources to investigation the murder of Ricky and bringing the culprits of the murder to justice, they were diverting those crucial necessary funds to spy upon the family. Not only that but whilst the Reel family were investigating and running new leads (which should have been the role of the police), these despicable, deplorable, officers of the law were infiltrating the group's inner sanctum spreading falsehoods and ill begotten rumours.
The first person I wish to highlight for their despicable, underhand behaviour as described in the book is Police Family Liaison Officer Little. It appeared obvious from the onset that she had no specialist training. It was not until the revelations about the SDS (Special Demonstration Squad) that things became clear, and it was realised that she was sent in to spy on the family. To fully comprehend the damage this person did you only need to read the account of how this she broke the news to Ricky's family that his body had been found in the river Thames.
Ricky's sister vividly remembers those moments.
"I was sitting in my living room with my older sister, younger brother, cousin, and aunt, waiting for the FLO to arrive. Out of the window I saw a police car pull up at some speed across the driveway. This was no surprise. I was expecting them to arrive to take us to River Island the speed at which they pulled up was odd. Ms Little and a PC came out of the car. At the time I was on the telephone to my mum on landline by the window as she had rung me. Ms Little came in told me to hang up. I told her I was on the telephone to my mum I would not hang up; she pulled the wire from the wall socket disconnecting the call. I was terrified. It got serious very quickly. I was 17 years old at the time my 11-year-old brother was also in the room.
Ms Little told us in the coldest way possible that they had found my brothers body had been "found at the bottom of the river" I can't describe the shock I felt. It is beyond words. These words are burned into my memory as much as I would love to forget them, they replay in my memory. "We found your brothers body at the bottom of the river." My brother was not a body he was my brother, he was Ricky, when did he become a body. (page 66)
She then went on to describe how this devastating news, broke in such as callous way, brought on an asthma attack. As she crawled upstairs to fetch her inhaler the FLO and PC watched on, unmoved and uncaring.
Yet even this conduct pales into insignificance when compared to the beastly behaviour of Mr Morgan the Police Officer from Kingston upon Thames police station who was put in charge of the investigation. His name will forever be burned on my mind, never mind that of the Reel family.
The book lists a catalogue of errors and omissions describing how not only did he mismanage mislead and bungle the whole investigation case, which would have been bad enough, he violated Ricky's body ordering an autopsy without first obtaining the family's permission. An invasive autopsy not to benefit the investigation but for his own sordid morbid pleasure. He was never brought to book for this as he retired before actions.
But his duplicity and evil doing where not finished there. He stole the pictures from the police and tried to sell them to a national newspaper alongside an exclusive story.
I paraphrase from the book here. I hope Sukhdev will excuse me.
One morning while resting Sukhdev received a phone call from a journalist on a national newspaper asking if she would like to comment on Mr Morgan writing an article putting his side or the story of the original investigation. Sukhdev was shocked and said she knew nothing of this. It transpired that he had taken photographs of the autopsy from the police records with him when he retired and was planning to use these pictures in his exclusive. To say Sukhdev was shocked would be a gross understatement. She immediately phoned her solicitor and got this newspaper article stopped. She wanted him prosecuted for stealing police property, but this was not done. The pictures were removed from him.
I have briefly tried to tell this horrific incident, but I do it an injustice. Please read pages 158 — 162 to discover the full extent of this man's vile behaviour.
I signal both Ms Little and Mr Morgan out for special demerit, but in truth no-one in the police or legal system comes out of this with any merit or honour.
If this were a crime novel or a series of Line of Duty, we would put it down, turn it off, stating it was too far-fetched. The horrifying reality is that this is not a work of fiction. These events really happened to the Reels. We cannot change their past. We can, we should, help shape their future for the better.
I think it only fitting that Sukhdev gets the last word:
Racism is a lie and those who know that truth will always fight and defeat that lie. The pain inflicted by racism can be life long and unbearable. Racism is an underlying evil that stains our society, were a person's skin colour becomes an excuse to be harassed, injured, or killed.
For everyone the name Ricky Reel stands for justice unfulfilled, the loss amplified by the anguish of a crime unresolved. From our continuing search for truth and justice our family and supporters will not let complacency obliterate injustice. (Page 193)
This was written on the 45th Anniversary of Ricky Reel's birthday 11th July 2022
The poetry section is posted in a separate blog.
The book: Ricky Reel: Silence Not an Option by Sukhdev Reel
Also watch this video honouring Sukhdev Reel
Posted on August 14, 2022
#robert
#social-justice